Selected new, fine used, rare & antiquarian books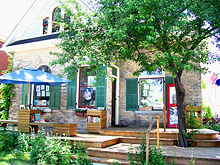 Book Stage is located across from the Studio Theatre in downtown Stratford, Ontario — home of the world famous Stratford Theatre Festival.
We have thousands of books crowded (in an organized way!!) in a yellow brick Ontario Cottage, decorated with antique maps, art (mostly for sale) and cozy theatre props reading chairs.
For a map and contact information, see the contact page.
Book Stage is a member of the Canadian Booksellers Association
Special
For direct orders of multiple books, after the first book (highest priced) you will receive a 25% discount on all subsequent books in the order. Please contact us directly with your order to take advantage of this offer.
A book lover's paradise found